'Lion Of The Tribe' Betrayed For 30 Pieces, Cecil The Lion Killed For 55
|
Cecil The Lion Betrayed By His Own
One of Zimbabwe's own led a hunt to shoot and kill Cecil, a friendly and beloved lion that was known to locals and people alike. Cecil the lion never hurt anyone ever. He had his own pride and was the 'pride' of the local area, loved by many. But behind the scenes, in some dark place, a horrible plan of betrayal was taking place. Walter Palmer, a dentist from the US, who has money wanted a lion kill. He alleges he didn't know it was illegal. A smart man like himself, seemed to not bother to find out.
Illegal or not, morally it is wrong. These lions are already endangered. They deserve to be protected and in Cecil's case, he was suppose to be in a protected zone. Something had gone horribly wrong, and what that was, is someone illegally taking money to hunt Cecil. Cecil the lion was betrayed in his own back yard. How anyone can do this, is beyond the comprehension of a lot of people, poor and rich alike.
The dentist named Walter Palmer is rich and most likely the people who led the hunt are not so rich. So the bait was the money and someone took the bait. They got their money and Walter Palmer got his kill. Feeling regret about it now means nothing. They already had their "fun", if you can call it that.
Here is where someone should have to pay and put that money into the care and sanctions of protecting the lions. Zimbabwe hunter bailed over killing
Zimbabwe lion hunter on bail–Cecil The Lion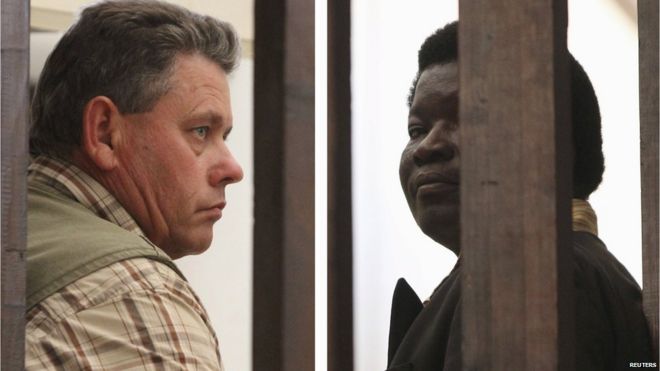 A hunter accused of helping a US tourist kill Zimbabwe's most famous lion has been released on bail.
Theo Bronkhorst pleaded not guilty to a charge of "failing to prevent an unlawful hunt". He was granted bail of $1,000 (£638) and ordered to appear in court again on 5 August.
His co-accused – farm owner Honest Ndlovu – will appear at a later date.
Walter Palmer, the US dentist who shot the animal known as Cecil, has left Zimbabwe but could also face charges. (Many people hope he does).
Mr Palmer said he paid for the hunt, but was not aware of the lion's identity.
He said he regretted shooting the animal, and believed he was on a legal hunt. He had relied on professional guides to find a lion and obtain the necessary permits, he added.
Mr Bronkhorst and Mr Ndlovu could face up to 15 years in prison if found guilty.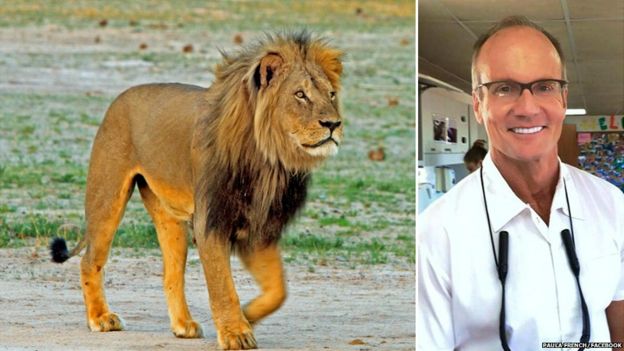 Cecil is believed to have died on 1 July, but the carcass was not discovered until a few days later. He is believed to have suffered tremendously too, so that Mr. Palmer could get his full money's worth.
Mr Palmer is said to have shot and injured the animal with a bow and arrow. The group did not find the wounded lion until 40 hours later, when he was shot dead with a gun.
'An activity I love'
Separately, court records have shown that Mr Palmer has a felony record in the US after killing a black bear in the state of Wisconsin in 2006.
The dentist was given a one-year probation and fined $3,000, having shot the creature outside an authorised zone and then tried to pass it off as having been killed elsewhere.
The American tourist is believed to have paid about $50,000 to go on the hunt in Zimbabwe.
More than 400,000 people have signed an online "Justice for Cecil" petition, calling on Zimbabwe's government to stop issuing hunting permits for endangered animals.
How the internet descended on Walter Palmer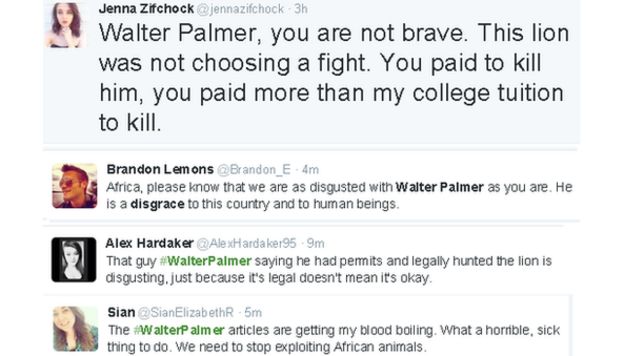 The dentist is believed to be back in the US, although his exact whereabouts are unknown.
His dental practice in Bloomington, Minnesota has been temporarily closed and a note placed on the door referring visitors to a public relations firm. A protest is due to be held outside the building later. Latest news has reported that there are death threats against him and Mr. Palmer is in hiding. His dentist practice may never be the same again. This may have cost him more than he bargained for.
The firm's social media accounts have also been disabled, after they were flooded with messages from angry members of the public.

Cecil the lion
A major tourist attraction in Hwange National Park – Zimbabwe's largest game reserve
The 13-year-old animal was renowned for being friendly towards visitors
Recognisable because of his large size and distinctive black mane
Led two prides containing six lionesses and 12 cubs along with another lion, Jericho
Was being monitored as part of an Oxford University study into lion conservation
Night-time pursuit
Cecil the lion was skinned and beheaded, according to the Zimbabwe Conservation Task Force (ZCTF), a local charity.
The ZCTF said the hunters had used bait to lure him outside Hwange National Park during a night-time pursuit.
Lions in Africa
35,000
Max estimated lion population
12,000
Max lion population in southern Africa
665

Approx number of 'trophy' lions killed for export from Africa per year

49

Lion 'trophies' exported from Zimbabwe in 2013

0.29%

Contribution to GDP of Zimbabwe from trophy hunting

17%

Of Zimbabwe's land given to trophy hunting
AFP
The animal had a GPS collar fitted for a research project by UK-based Oxford University that allowed authorities to track its movements. The hunters had tried to destroy it but failed, according to the ZCTF.
On Monday, the head of the ZCTF told the BBC that Cecil "never bothered anybody" and was "one of the most beautiful animals to look at".
Source:  bbc.com
Source: Alexandra Makonin, author